School Website
for just €90!
Now your school can be online with a professionally designed website. Not only that, but you can easily manage the content from your own PC, with no technical knowledge required.
The entire site will be developed and created to your requirements for just €90! The only additional cost is the annual hosting package, which for schools, is a highly competitive €70 per year.
Simply select your design and send us your content; we will build your site for you. If you wish, we will maintain and update your site on a monthly basis for the whole year.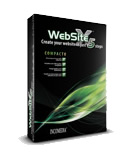 You can take over the maintenance at any time; simply purchase Website X5 software for €39.99 and off you go. Website X5 from Incomedia is extremely simple to use, requires no technical or specialist knowledge whatsoever. Remember, your site has been built for you; making changes using this software is as simple as can be!
This software is tried and tested in industry and education throughout Europe, read the reviews here.
Not sure what your site might look like? View a sample site here: